Xbox 360 Limited Edition Kinect Star Wars Bundle
28.09.2019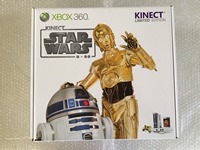 Displaying here is a Xbox 360 Limited Edition Kinect Star Wars Bundle, bought by one of our customers, from a private seller on Yahoo! Auctions Japan.
To talk a little about the set, it features a white kinect sensor, and the main attractive parts for Star Wars fans are of course the nicely designed R2-D2 finish Xbox and the C-3PO wireless controller, both which offer a stunning look to the game set itself. The bundle comes together with the Kinect Star Wars game. The set was launched on April 3, 2012.
R2-D2 and C-3PO are two robot characters from the Star Wars franchise, created by George Lucas. Both are droids, and serve the main characters of the franchise and play a pivotal role in the SW's Galaxy. They are major characters and are the only ones that appear in 9 out of 10 movies. C-3PO is portrayed as a humanoid robot, most oftenly appearing in gold plating, where R2-D2 is an small astromech droid on small wheels.
This Xbox was used, but upon checking, we found it in great shape, seemed rarely used. Even the box it came in was intact, all foam fitments in place. We hope our customer was pleased with the purchase.