Why ask for a product check of your orders?
01.10.2019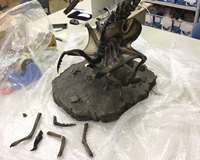 Ordering a product check should be done in cases when you have various doubts about the item or items that you have purchased. There can be various reasons for that:
you bought a lot where the seller has posted poor quality photos
you want to make sure of the quantity of the items
you bought an expensive product and want to check its condition
you bought a fragile item and want to check if it has arrived at our warehouse undamaged
There may be other reasons for you to want to check your purchases, but in the end, the point is for us to inspect that everything is in good order.
So was the case with the item feature in this article, which was both expensive and fragile. An amazing life size sculpture of a Queen Facehugger, an important character in the infamous Alien universe, made by Sideshow Collectibles, a renown maker of collection items.
Unfortunately, our customers doubts have been proven real, because the vendor took no care in shipping this fragile piece, not using any inside protection like foam, extensive bubble wrap and hard carton. The figure came in a thin layer of bubble wrap and a weak carton box, and most interesting, with no fragile mark stickers. Of course, the inevitable happened and the soft parts of it broke. In the end, the vendor agreed to compensate our customer.
We always recommend to order a product check if you have any doubts about your purchases. We will inspect and make photos so you could judge for yourself.