Pentax, another famous Japanese camera brand
07.09.2019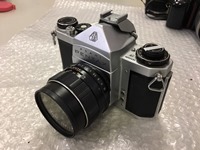 Everyone is familiar with Nikon and Canon, since these brands literally dominate the market, but when talking about Japan, another famous name pops up, and that is the Pentax brand of cameras, initially Asahi Optical Co., Ltd.
Now in the possession of the Japanese giant Ricoh, Pentax at one point was a pioneer in photographing innovation, and especially by using the stop-down light metering. It allowed to focus the lens at maximum aperture with a bright viewfinder image. After focusing, a switch on the side of the lens mount stopped the lens down and switched on the metering which the camera displayed with a needle located on the side of the viewfinder. The only down part was that it limited the capability of the light meter, especially in places with low light.
One of the most famous lines was the Asahi Pentax and Pentax Spotmatic, which features a family of 35mm single-lens reflex cameras that were so successful and well received by consumers that it the design of 35mm SLRs worldwide for years to come.
On Yahoo! Auctions Japan you can find used Pentax cameras and accessories for different models. Sellers usually would post pictures of the items so you can see the real condition for yourself, and decide if it's worthy to purchase.
But in case you want an item, but have some doubts about their condition, you can order a product check once we receive them at our warehouse in Japan. We will open the seller's package and inspect its contents and post the photos attached to your orders.