Japan is the choice for shopping used fishing supplies
17.08.2019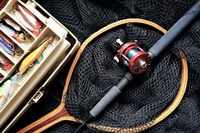 Japan has fish as their main dishes for almost all their existence, and the country being surrounded all around with water, it's not surprising.
Before modern times and large scale commercial fishing, almost any household knew how to fish, and did it very well. The love for this trade and practice was passed from generation to generation, so there is no wonder now that Japanese people enjoy fishing so much.
Beside that, the country offers stunning places for catch, and one can choose to fish either in the open ocean waters, rivers or lakes.
Of course, with all the new technology and innovations becoming available around the world, Japan won't step out in this field which is rooted in their tradition.
When considering buying fishing supplies from here, two most prominent names pop up, and that are Daiwa and Shimano. They are the most renowned Japanese manufacturers of everything fishing.
With Yaharu.com, you can browse and buy used supplies in very good condition and attractive prices. You can search the multitude of offers available.
We will ship any products worldwide with the shipping methods you will choose.