Icom transceiver for amateur radio
11.11.2019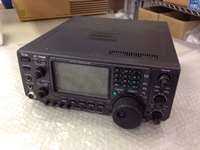 We have several customers which buy radio transmitters for amateur radio, as this Icom IC-7400 all mode transceiver. This is a highly acclaimed equipment by many users, for it's various abilities that it offers for the ham radio, especially for it's great receive audio.
The company Icom is a famous Japanese brand, which specializes in manufacturing of radio transmitting and receiving equipment. The company was founded in 1954 by Tokuzo Inoue. At the moment, featuring a wide spectre of related products, they have branch offices in many countries, USA, Canada, Australia, New Zealand, UK, France, Germany, Spain and China.
There are a lot of authentic equipment sold at japanese auctions, both new and used that are sold by private sellers or stores. You can easily browse the availability on our website, since all lots are translated in english. You can land some good deals if you're in the mood to spend some time hunting.