Green tea Matcha, an amazing drink
20.08.2019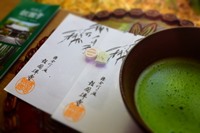 The green tea Matcha has set a worldwide trend, and for several good reasons. The taste is fantastic, contains a full range of antioxidants, vitamins and minerals
the tea has a fantastic taste, with a fresh, subtle flavour, offering notes of herbs but not as powerful or bitter as more common green teas in the world.
it is rich with benefits and contains a full range of antioxidants, vitamins and minerals.
widely used in cooking and baking, as the popularity emerges everywhere especially in desserts and drinks for it's great smooth and pleasant taste and it's beautiful green natural color
And where else to best buy your Matcha tea if not from Japan, the country of origin for this cool new drink, and the biggest manufacturer/exporter of Matcha in the world.
The best matcha powder is considered to be made in Shizuoka Prefecture and Kyoto. These are the most renowned places that dive deep in the green tea growing traditions, having perfected their blends over the years of experience.
With Yaharu.com, you can find various types of Matcha tea, from a multitude of brands and manufacturers.
Our Company will ensure a smooth delivery to your destination so you can enjoy a refreshing green drink from the country of the setting sun.
To browse the wide variety of Matcha from Japan, create an account on our website here.