Gashapon toys, Tomica street lights set
05.11.2019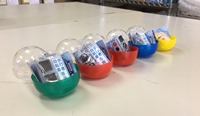 A rare Tomica street lights gasha set has been bought at Japanese auctions. This collection was gathered and won at gashapon machines.
Beside diecast cars, Tomica features full collectible play sets, city scenes, that collectors gather to create a full entourage city scale.
A little about gashapon (ガシャポン) or gachapon (ガチャポン) – these are capsule toys sold in special vending machines that are very popular in Japan and other countries. They can be found in the majority of big stores, malls, big supermarkets and others.
Besides being a good attraction for children, there are a lot of collectors that enjoy collecting gashapon toys, which features collectible toys like diecast model cars and their like.
The capsule toys, like the ones we had the chance to check, come in a plastic ball shaped container, having inside small toys from a various range of genres and brands.
You can also find a lot of gashapon toys on our website, available for purchase.