Gameboy nostalgia
29.08.2019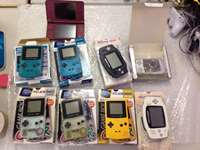 Gameboy by Nintendo has made a massive impact wave in the whole world through innovative gaming experiences. The devices and games played on them have brought arcades up to a whole new level, and at the time of their original release, you were considered really cool by having one.
The first 8-bit Gameboy was released in 1989, the product being a hit, selling successfully both inside Japan and outside, outselling their competitors by far.
Gameboy Color was the next wave of success in Nintendo's selling campaign of handheld devices, and combined with the Gameboy, selling more than 100 million units worldwide and making it the 3rd best selling system of all time.
Though now many other new and highly advanced consoles and high performance smartphones are dominating the markets, collectors and amateurs are still feeling the nostalgia of childhood of holding the Gameboy console in your hands.
And through our website, you can find dozens of offers were people are selling their used consoles, and for good prices by the way.
Take a look at real photos of some cool Gameboys that our customers have purchased.
Go and check them out here (must be registered to view).