Fine crafted guitars from Japan
10.10.2019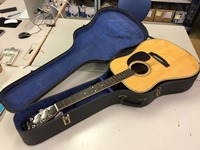 Some of the top leaders in guitar manufacturing are of course Japan and USA. The most renowned brands have their roots in the American and Japanese culture, names that have pioneered the string instruments industry along the centuries.
Japan sells a wide variety of guitars, and not only locally produced, but from foreign brands as well.
You can find popular names as Yamaha, Takamine, Gibson, Fender, Ibanez, just to name a few.
Yahoo! Auctions Japan offers the amazing possibility to source used guitars in fantastic condition and amazing prices.
And do not worry about the security of the fragile guitar when it will be shipped to your destination – after we receive your purchase from the seller at our warehouse in Japan, we repack it in an reinforced package that protects the guitar along the road.