Finding gems for nostalgic gamers
10.09.2019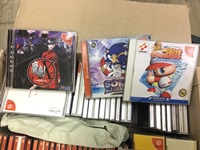 Yahoo! Auctions Japan is an wonderful place to find hundreds of goodies between the gaming section. Since some of the biggest game creators of the world are in Japan, there is no wonder many people sell their old game collections that they do not use anymore.
You can browse different categories for games and recreation like consoles, or PC games, and very often find a good bargain.
Since games and technology are developing ever so fast, new possibilities appear and old ones get outdated very fast. This often drives people to sell what they do not use, and move on to newer options.
Understanding this, we offer the hint to our customers to browse for bundle lots, where sellers tend to just give away their collection of console games or PC CD-s. In most cases, such sellers agree to a smaller price, just to get rid of it, and for many collectors or amateurs, this may prove a great deal, since very often, you may find those games that interest you.
We will carefully pack your order once it arrives at our warehouse and you choose the shipping method for it.
For more information regarding shipping possibilities, please check this link.