Fender Precision Bass guitar
13.10.2019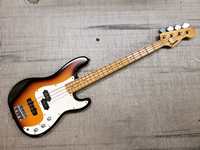 Many guitars and musical instruments come our way. Japan has a big history and name in the guitar making industry, which great quality pieces have carved their fame among guitarists all over the world.
As such, the Japanese themselves are great lovers of music, and especially everything guitar related. And you can find plenty of fine instruments on Japanese Yahoo! Auctions.
In this post, we want to show a Fender Precision Bass guitar, Professional series, a piece of exquisite design and quality.
It is featured in a beautiful brown sunburst color, maple fingerboard with a modern neck, "C"-shaped profile.
As with all other guitars, this precision bass will be repacked in hard cardboard to ensure safe delivery overseas.
Check out the best musical instruments offers in our catalogue https://www.yaharu.com/yahoo/hobby-culture/musical-instruments-tools-and-materials