Diecast model car bought at auctions
22.09.2019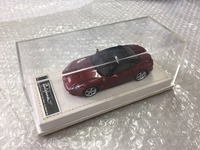 We like to draw your attention to this fine diecast model car. Yahoo! Auctions Japan is a very good place to find cool and rare collector's items, especially diecast car models.
When seeking such type of products, always try to find vendors that post many photos, from different angles, so you can see all the aspects of the item itself.
Here are some tips to use when searching for such products:
seek lots with many photos, from different angles
try to find lots with an appropriate and broad description
choose diecast models that have been kept in their original casing
refrain from lots that have poor quality photos, are shadowed or blurry, photographed from one side only or have a poor or unclear description
check the vendor's reputation on our website and Yahoo! Auctions
Sometimes there are lots that present a high interest to you, but the photos or description draws concerns to you, but you still want to buy it. In this case, we strongly recommend that you order a product check so we could inspect the product as soon as it arrives at our warehouse. Read more about product check here.