Coilovers came in a cute small package
16.10.2019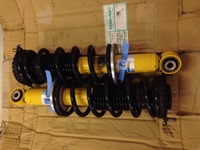 When you talk about suspension kit, you imagine the heavy rods which are the coilovers. This one time, we received two of them, packed in a nice cute small carton package. Since this was not a full suspension kit, they weighed only less than 10 kg.
Upon product check, requested by our customer, we confirmed that all came as advertised by the seller on auctions.
We ship various car parts and wheels bought here in Japan through our website. Even though spare parts are most often heavy or oversized, we still find the possibility to ship them overseas to customers in different places around the world.
For example, if we consider shipping these coilovers, which are roughly 10 kg, by means of Express shipping, EMS offered by Japan Post, the costs would be the following:
Oceania, North America, Central America and the Middle East – 14,500 yen ( approx. 132 $ USD)
Asia 10,500 yen (approx. 96 $ USD)
Europe 16,600 yen (approx. 151 $ USD)
South America and Africa 27,700 yen (approx. 252 $ USD)
*please note that the dollar-yen conversion has been calculated as an example at the rate 1 $ USD = 110 ¥ JPY. Exchange rates are subject to daily change.
You can always consult our page for deliveries here, or write us a direct message with your questions, and our managers will answer as soon as possible.